Let us first go back to the origin of this ✨unique✨ experiment.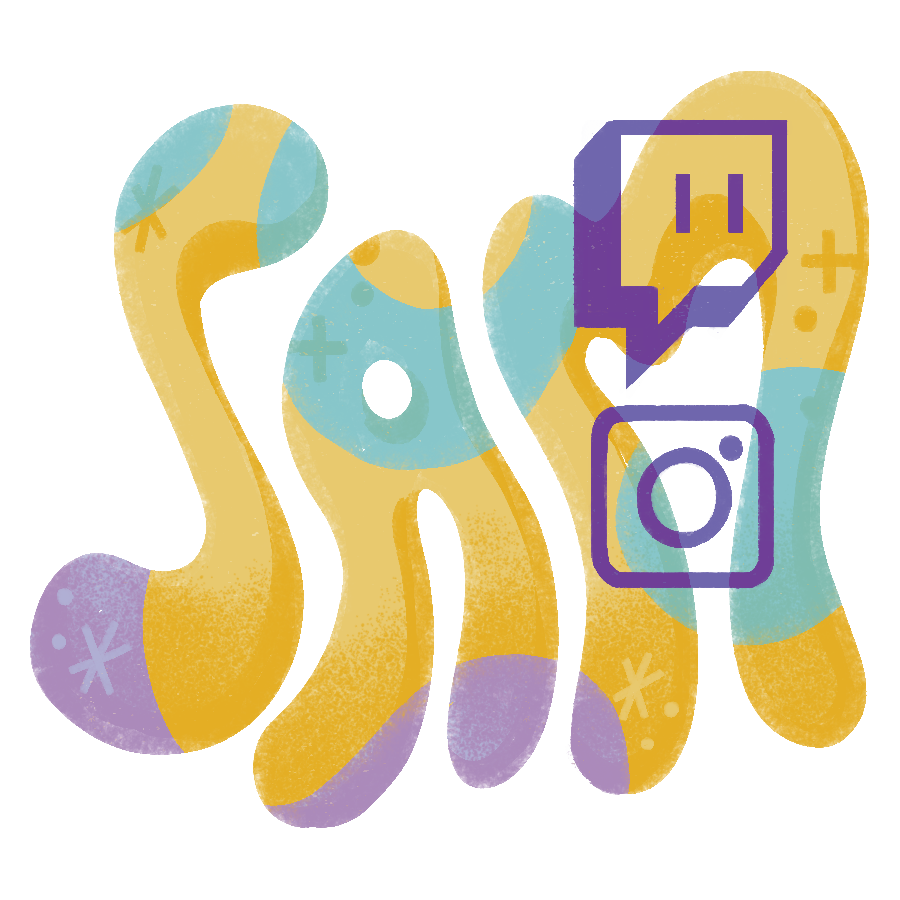 Sam, sa_me_di on Twitch and samedi_flow on Instagram, is a fantastic person who distributes joy and energy through her live chats on her preferred platform: Twitch. Her content varies from talking to viewers, to game night, to reaction and interviews with various personalities… All wrapped up in a sense of safety, free speech and community, "This is a safe space" Sam likes to remind us as she looks forward to learning the names and pronouns of her viewers.
I was then asked to illustrate the third interview in the series. And I said yes. Without hesitation. Yes-yes-yes. I had no idea what I was going to do, but I really wanted to try.
So in this article, I'll show you the other side of the interview, the backstage, what went on in the head of the mystery artist of January 9th.
---
Chapter 1: The First Moments
One thing you should know about me: I am by nature stressed, I always have been. But I've learned to love that stress which becomes excitement, surprise, anticipation. Looking forward to doing something great, looking forward to getting out of my comfort zone, looking forward to doing something better.
That Sunday evening, the stress is definitely there, the same as before an exam for which I know I am passionate about the subject. Samedi prepares me. I will only be allowed to listen, I will not watch the stream, I will not be able to interact, I have only one thing to do: draw.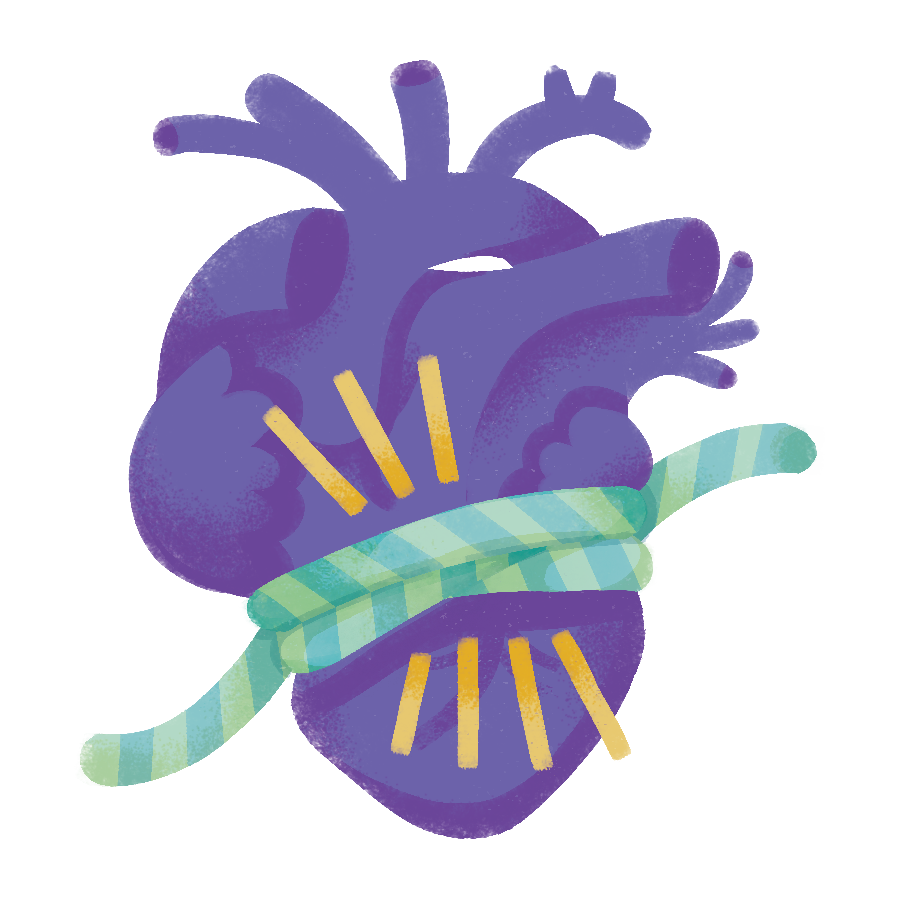 Chapter 2: Breaking the Ice
I hear Sam chatting to the audience, I imagine the waiting screen on the video feed, I prepare my Photoshop file and my boyfriend encourages me as if I were a boxer ready to enter the ring. And then. The blow falls. I hear HIS voice, an unknown voice, a deep voice that is definitely not Samedi. It's the starting shot.
I gasp. "It's going to be okay," I tell myself.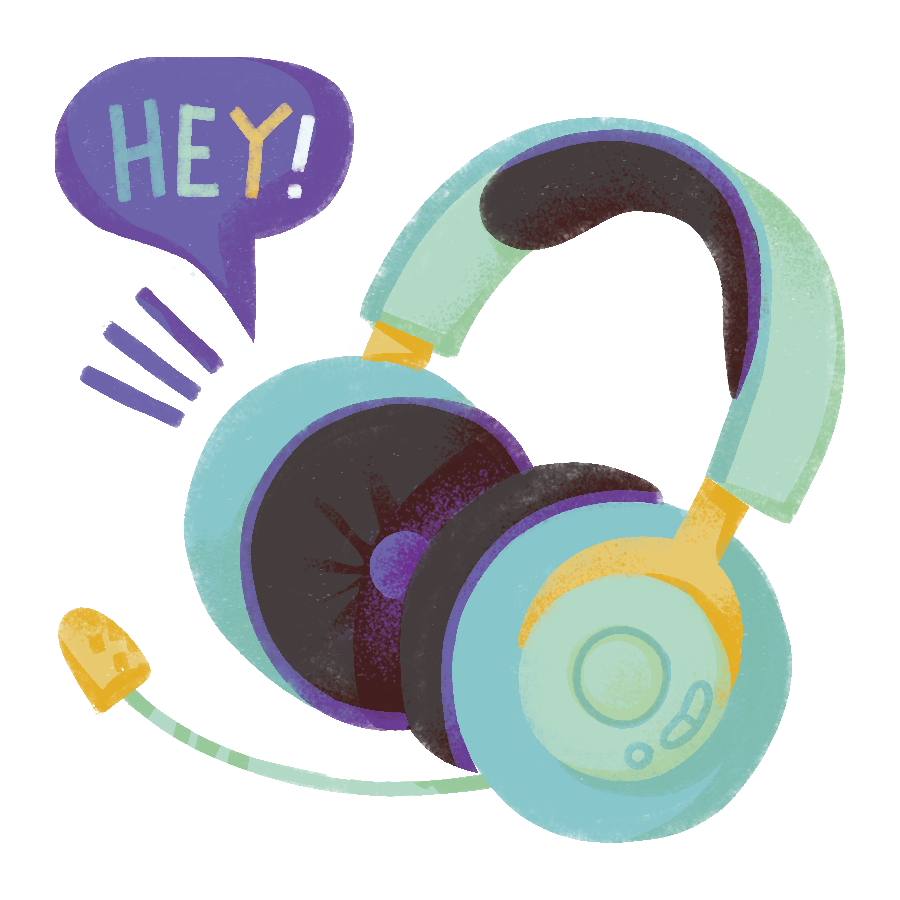 The discussion begins and I realise how much I'm going to have to rely on the subjective, on "you inspire this" rather than "I look like this". I've never taken this organic approach before, and that's exactly why I said yes.
Maxime, that's his name, talks about the mountains, he talks about sport, he talks about self-confidence, the discussion is so interesting but I am so frustrated that I can't ask questions too. At that moment I feel like I'm getting to know someone, when he has no idea who I am and no way of knowing. I start to sketch, I let myself be soothed by the moment. It's exhilarating and stressful at the same time, and I'm a bit lost.
Chapter 3: The Comfort Zone
I am definitely out of my comfort zone. At the beginning, I start with a dynamic posture, a jump, a flight to signify freedom but also awakening. The idea is there but the execution struggles, I am not at all satisfied with my first bases. But I persevere. While I struggle with my ideas that go in all directions, it shows on my canvas that I don't know where to go.
And as I see the clock ticking, I panic. Half the stream has gone by.
I have to change my approach now. So I walk away for a minute, explain out loud what I'm imagining, and everything is much clearer. I start to think like a painter who makes big brushstrokes to force themselves to take a step back and make drastic choices. I change my framing and remove the elements that inspired me less. And there I went again. I realised that I was trying too hard to draw what I thought of him but that in the process I was losing what makes my pieces mine, my fun, my colours, my compositions. The situation was already out of my comfort zone, so going for a piece that was really different from what I usually do was too far from "the shore", and admitting this allowed me to refocus and find again the lightness of the moment.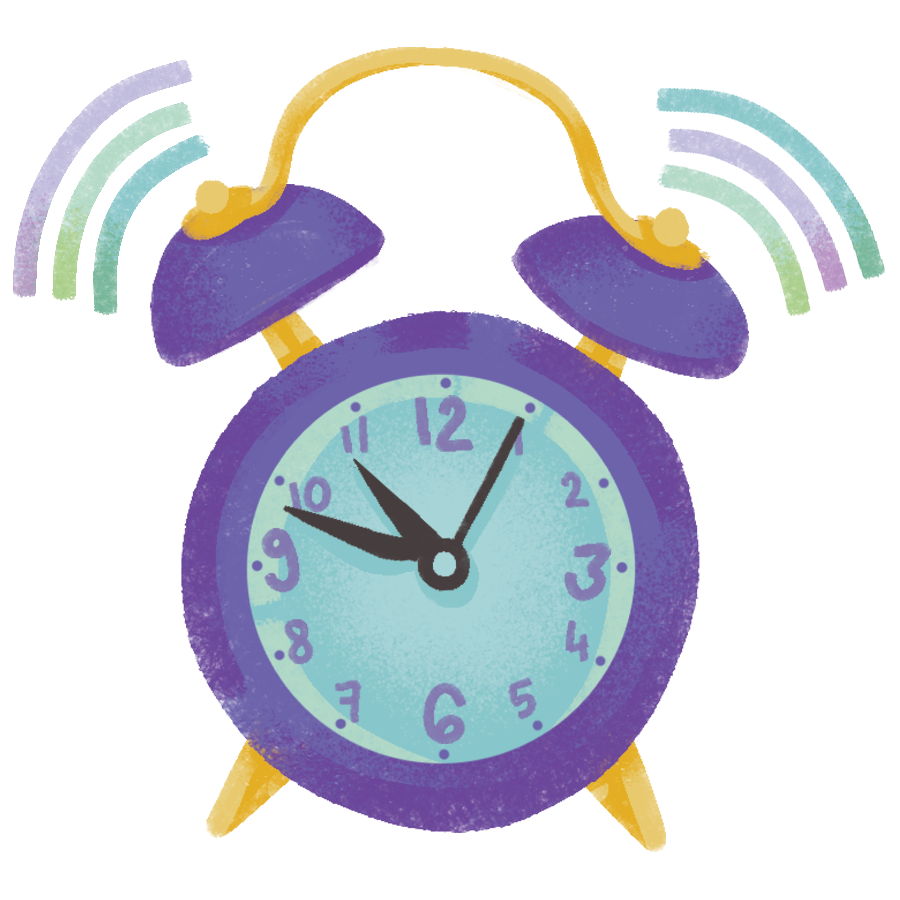 Chapter 4: Playing and owning my choices
I have regained my confidence, I smile, I breathe again after being under water for a good half hour. I have my composition. My background. My silhouette. And some colours have already found their places. I let myself be carried away by my ideas and spontaneous desires, telling myself that luck will lead me to where I want to go, now that I have a solid base.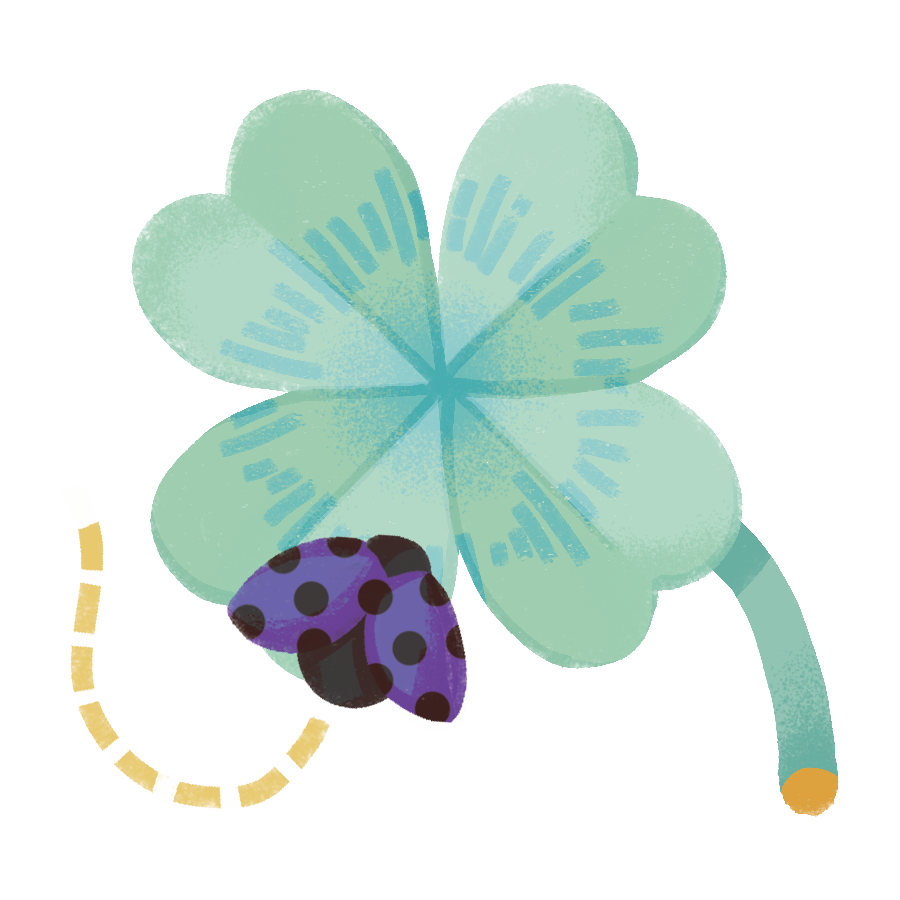 The end of the interview is approaching, and I can feel it. Samedi has already warned me, I can end this art piece out of the stream as long as I have a base to show Maxime at the end of their discussion. As the discussion thread tapers off… Sam introduces me, she shows my painting in progress, it's a bit frustrating because it's a draft but the reception given to my illustration is so positive that it erases any bad feeling.
I finish my piece the next morning, without the pressure of being live, and I love the end result. It shows the thoughtfulness of the beginning of the stream and the impulsiveness of the end. It is true to my colours and techniques, but at the same time it is very distinctive from my usual work. Unique. Like this experience.
---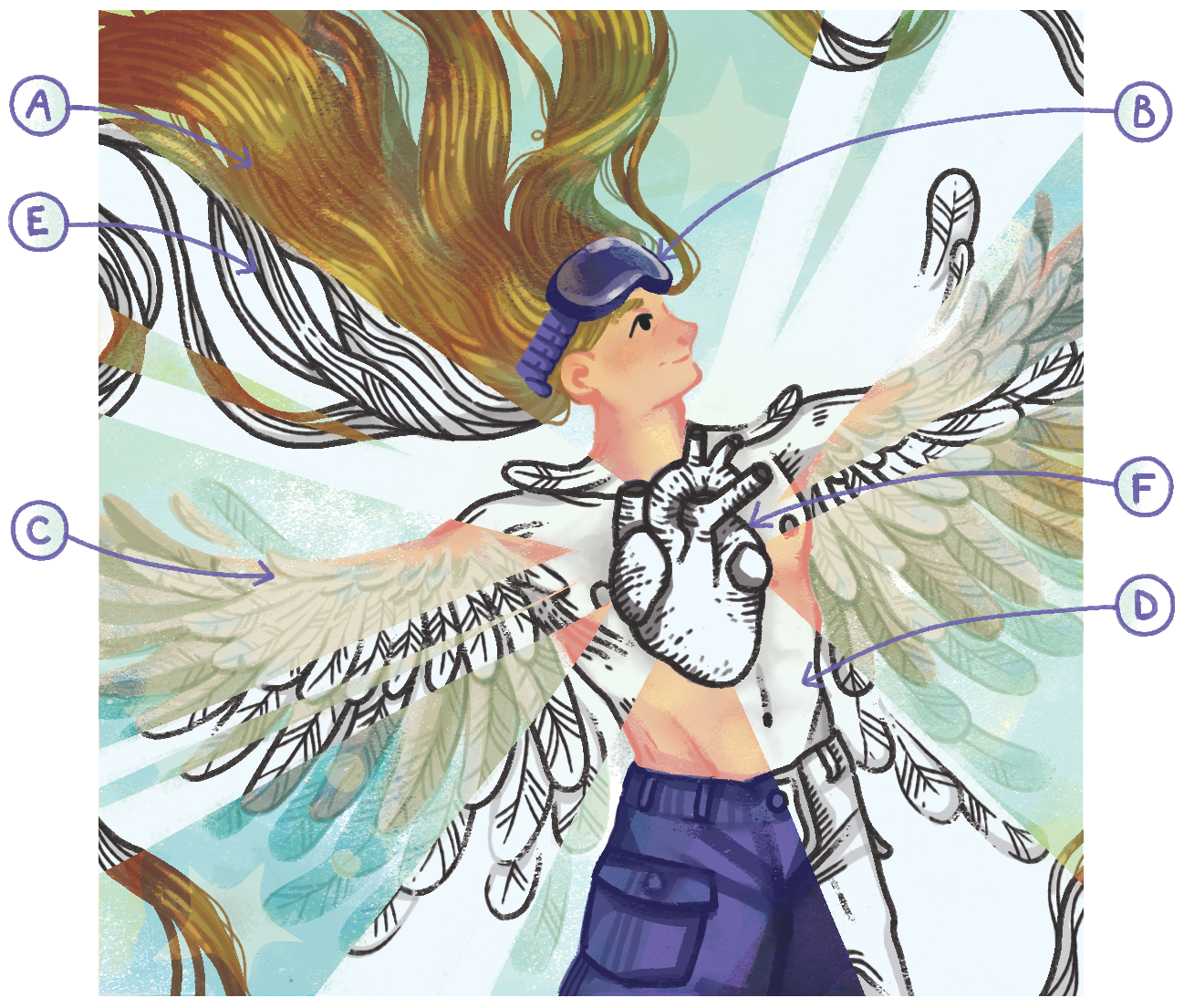 Let me explain this to you:
A. I depicted a man, of average height, muscular, with long blond hair, following the physical description that Maxime gave of himself.
B. While drawing, I chose to reduce the ski gear to the goggles and trousers, and I tried to signify the crisp and invigorating cold of the mountain with the icy blue tones.
C. During the discussion, the feeling of freedom, of taking flight, especially after his teenage years when he struggled with his self-confidence, was mentioned several times.
D. He explained that this new self-confidence was built thanks to his passion for sport and his appreciation of his current beauty (it was very nice to listen to this theme).
E. But also thanks to his recent discovery of his love for creativity and drawing.
F. I decided to represent this sport/drawing dichotomy with an anatomical heart that radiates throughout his being. Because by focussing on his two passions, by taking the time and energy to deepen them, he has learned to love himself, to accept himself and to build his identity by being kind to others, but also to himself.
---
The Conclusion: what is my final feeling?
I went into it not knowing what to expect, propelled by this sense of unpredictability, and indeed it was a real emotional rollercoaster. I was tense. Stressed. Reassured. Passionate. Lost. Dissatisfied. Motivated. Ecstatic. Flattered but above all proud. Proud to have a final result that pleases me, that pleases the commissioner and that pleases the model.
When Samedi revealed to me who my muse was, I was thrilled. I was so happy to see that what I painted made sense. What struck me the most was that we talked about art quickly during the interview, but without specifying what nor how he drew, so when I saw that he drew mostly with black marker on a white page, that he focuses on lines and contours, I couldn't believe my eyes, because that was exactly how I pictured him in my head.
---
Links to continue reading…
Messiness against Art Block, my previous blog post on how I go out of my comfort zone to restart the creating machine. A longer exercise than a blind portrait, but way less creatively demanding.